It rained most of Saturday; our front yard is a pond again. But daughter #1 drove in to town on Saturday morning to go to an event that night, so we went out in the rain to a really good estate sale where we made out like bandits, limited only by the size of my car and our puritanical sense of restraint.
She got a really nice chair and a lamp and I got a mirror…
and a vintage waste basket. It was one of those houses where an Episcopalian has lived for 50 years and it all looks and feels extremely familiar to me right down to the books and records, collections, art and furniture.
Daughter #1 went home to mid-MO on Sunday morning, having led her trivia team to victory (First Place!) at the Mercy Hospital NICU trivia night fundraiser, along with the boy and daughter #3 and some of their friends. I stayed home and watched Move Over, Darling (1963) with Doris Day, which went along nicely with my self-comforting plans.
The wee babes and their parents came over for Sunday night dinner. The OM tried out his new barbecue, which he had spent all weekend putting together.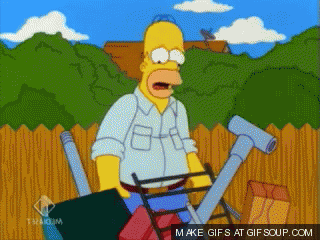 The burgers and hotdogs turned out nicely!
And the Florida room is open for business!
Another busy week commences and a new month! As usual, I'm taking it one day at a time.
*John Samuel Bewley Monsell (1811-1875)
Fight the good fight with all thy might!

Christ is thy strength, and Christ thy right;

Lay hold on life, and it shall be

Thy joy and crown eternally.

Run the straight race through God's good grace,

Lift up thine eyes, and seek His face;

Life with its way before us lies,

Christ is the path, and Christ the prize.

Cast care aside, lean on thy Guide;

His boundless mercy will provide;

Trust, and thy trusting soul shall prove

Christ is its life, and Christ its love.

Faint not nor fear, His arms are near,

He changeth not, and thou art dear;

Only believe, and thou shalt see

That Christ is all in all to thee.